A tiny kitten just four weeks old found his life transformed by a family and their feline companion in a world he was unable to view.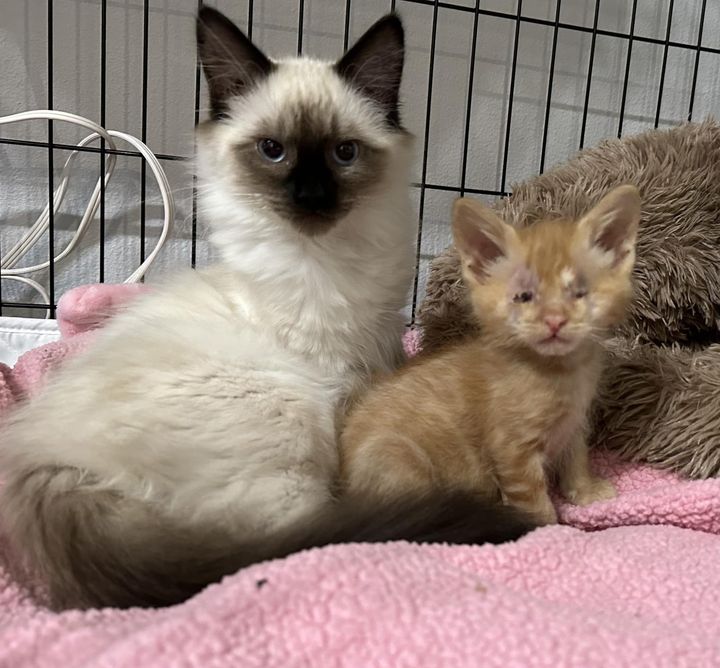 Waffles and Stevie by Jamie Myers
A kitten aged 4 weeks was taken to SpokAnimal as his eyes were infected beyond repair. He had to undergo surgery at the Animal Emergency Clinic for enucleation which was difficult for a kitten of his size. Although he had stitches, he didn't seem to be bothered by them. Jamie Myers, who volunteers at SpokAnimal, offered to foster the kitten so that he could recover in a cozy and affectionate environment. As soon as she saw the kitten, she was filled with love. "He captured my heart instantly," Jamie said to Love Meow.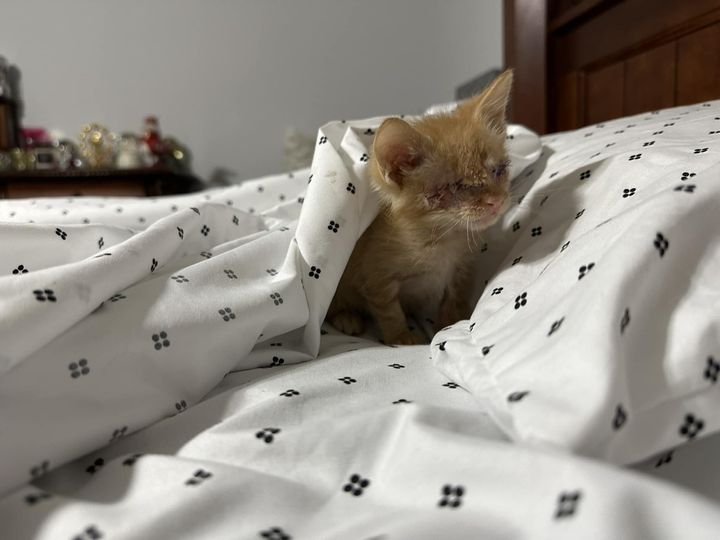 When Jamie met Stevie, the cute little kitten was a tad hesitant and shy during the initial couple of days. In fact, Stevie wasn't even eating or drinking much and Jamie had to syringe-feed him just to ensure he was staying hydrated. However, things started looking up on the third day when Stevie finally began eating properly and regained some energy. He became more lively and loving, seeking out affection and snuggles with his newfound vigor.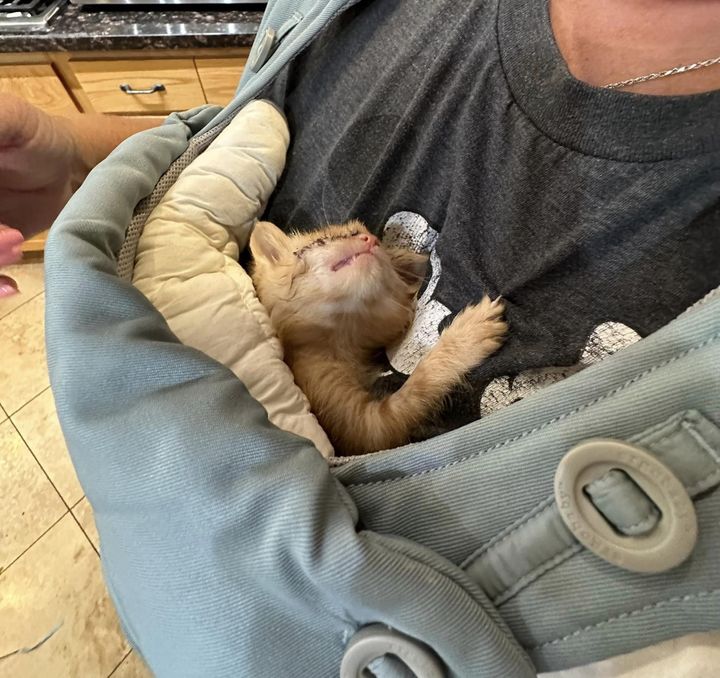 Jamie Myers shared that she loves carrying Stevie around in a baby carrier on her chest, which allows him to sleep close to her whenever he wants. The bond between them is incredible, and Stevie trusts her completely. Jamie is proud to have given Stevie the chance to thrive and live a happy life in her care.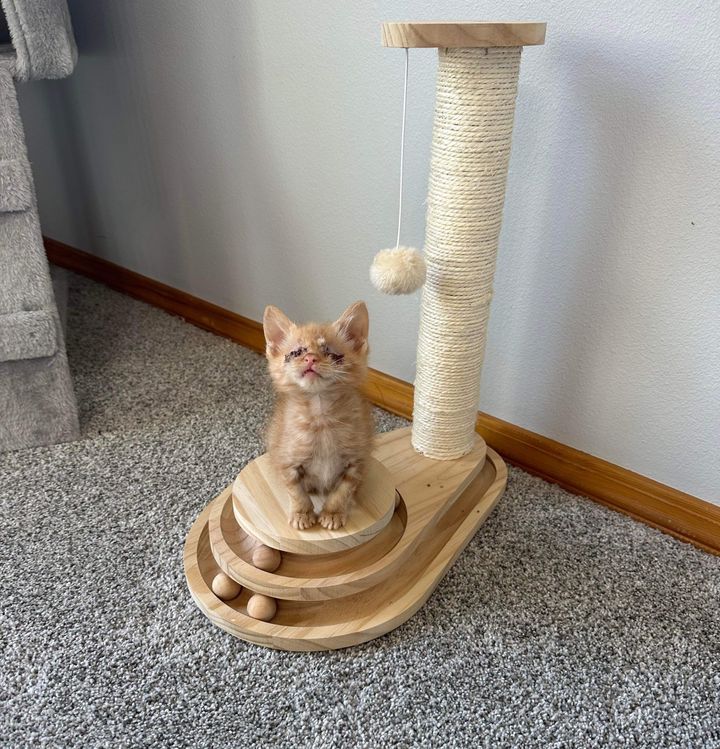 Jamie Myers reported that Stevie, a cat, has developed a voracious appetite for his favorite food mix, which has resulted in a significant increase in his weight. Jamie no longer has to weigh Stevie four times a day because he has gained enough weight. Stevie has also become more playful and inquisitive, learning to use his other senses to navigate his surroundings. According to Jamie, Stevie is very adventurous and does not hesitate to explore new territories.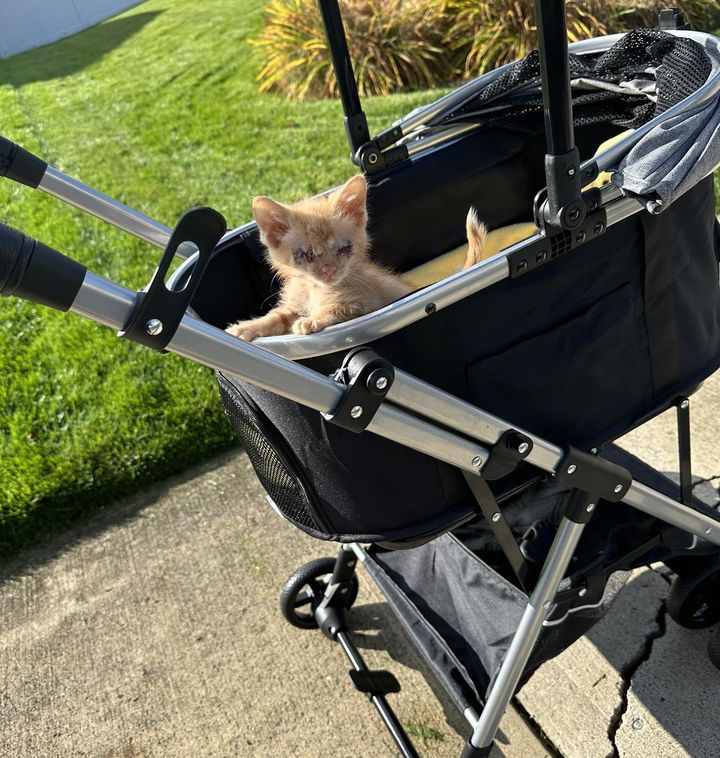 Jamie Myers' furry friend has a passion for exploring with his humans. Stevie's curiosity was piqued when he met three other foster pets and the resident cat named Prince Waffles. He eagerly followed them around to experience all that was happening in his environment. As Stevie grew more accustomed to his surroundings, his playful nature made an appearance. He would enthusiastically attack any noisy toy and engage in wrestling matches with plushies as big as him. During play breaks, he would find solace on Jamie's shoulders.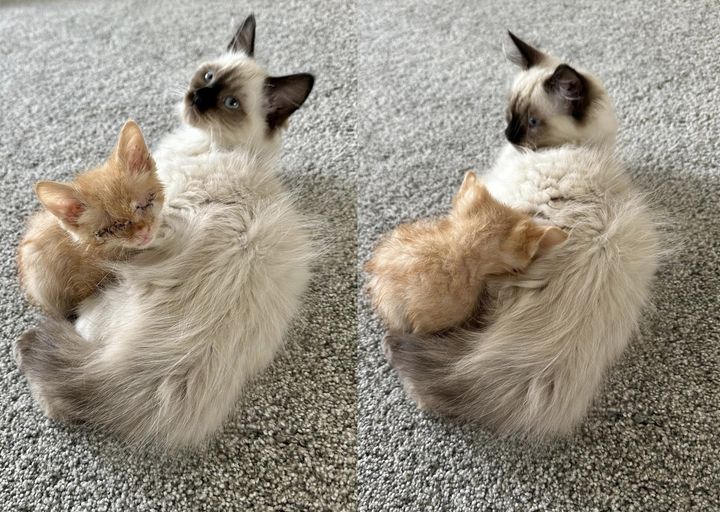 Stevie has developed a fondness for the resident cat named Waffles. According to Jamie Myers, Waffles is quite intuitive as he can easily identify the exact location of his toys and pounce on them in no time. The cat also seems to enjoy attacking toes and playing with a noisy birdy. Although Stevie loves all felines, Waffles has become his favorite.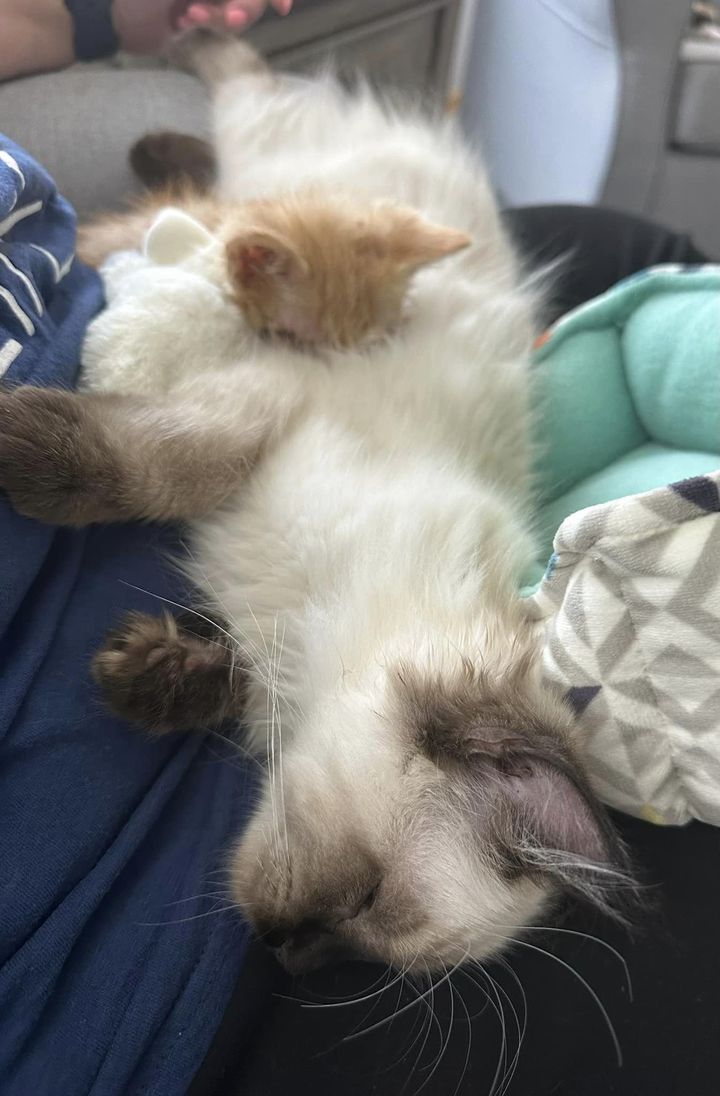 Jamie Myers reports that Waffles and a blind kitten have formed an inseparable bond. Upon their first meeting, Waffles took an immediate liking to the kitten and allowed him to snuggle up against his fur for comfort. Since then, the two have formed a deep connection and are frequently seen playing together or napping side by side. The kitten, named Stevie, is especially fond of resting his face against Waffles' soft coat, which brings him great joy.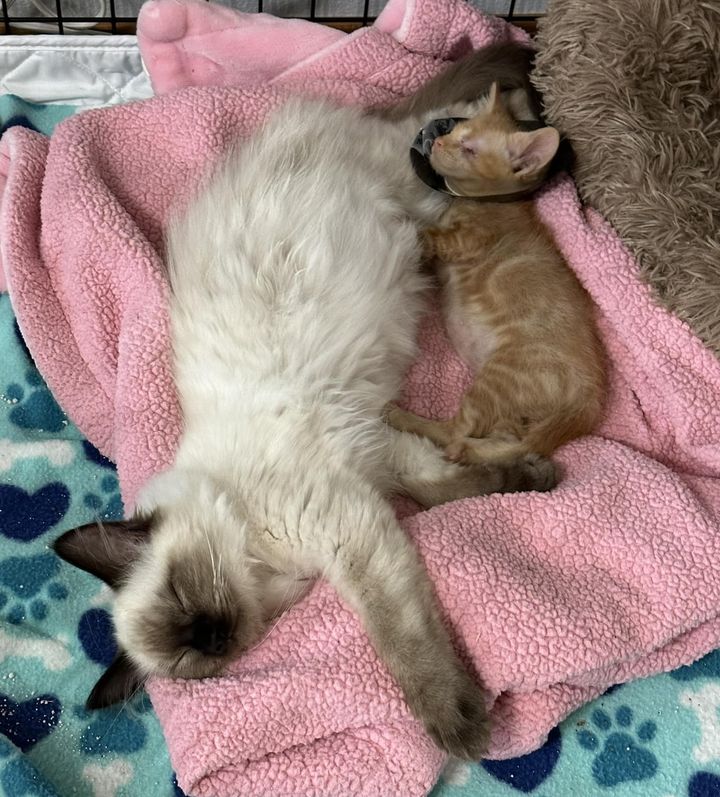 Jamie Myers said that Stevie quickly became a beloved member of their family, and it was impossible to separate him from his best friend. They knew right away that he belonged with them forever. Jamie also expressed gratitude towards the team at SpokAnimal who played a significant role in giving Stevie a second chance at life. They are the true heroes in Stevie's story according to Jamie.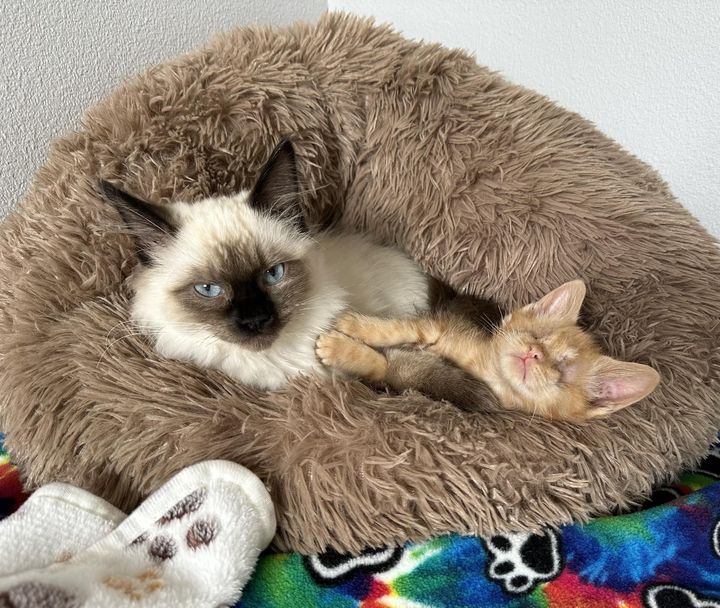 Jamie Myers reported that Stevie had recovered from his stitches and was showing his gratitude by snuggling with his mother. Stevie seemed to be enjoying the warmth of his mother's body as he purred into her ears.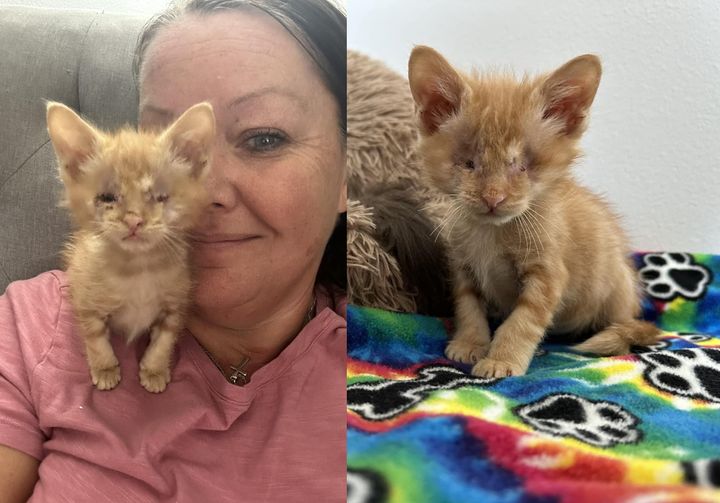 Stevie has no stitches, says Jamie Myers!
Waffles has always been there to encourage Stevie, and the two of them will remain brothers for life. They enjoy each other's company by playing and cuddling, and they get exhausted together in their cozy bed. These two make the perfect team!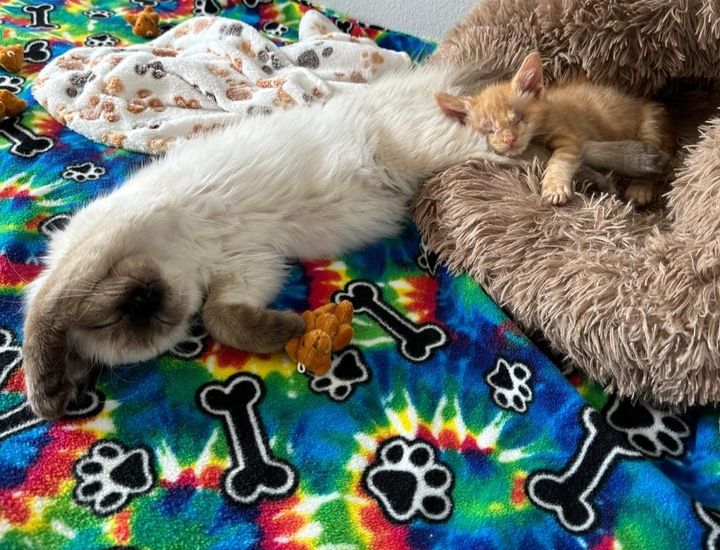 Jamie Myers